Where strategy
meets execution.
A powerful solution achieving the organization's potential.
Increase execution efficiency
myOGSM streamlines activities without wasting time updating spreadsheets, aggregating reports and tracking down information.
Enhance accountability
With the ability to assign ownership, due dates and reminders, team members always know what needs to be done and when it needs to be completed.
Measure performance
myOGSM provides the ability to monitor the performance of the organization from top to bottom.
Maintain focus on priorities
myOGSM integrates strategy into the daily activities of the organization.
Drive collaboration
Due to the transparent and collaborative nature of the application, team members are encouraged to communicate with each other when issues arise and are able to provide detailed notes and updates.
Align your team
myOGSM creates consistency and accountability across the organization.
myOGSM helps drive the successful execution of your company's strategy by providing a central platform to capture and track objectives, goals, strategies and measures across the organization and consistently monitor progress and impact.
The Old Way
How complex and disconnected are the systems, documents and workflows you use to manage your strategy?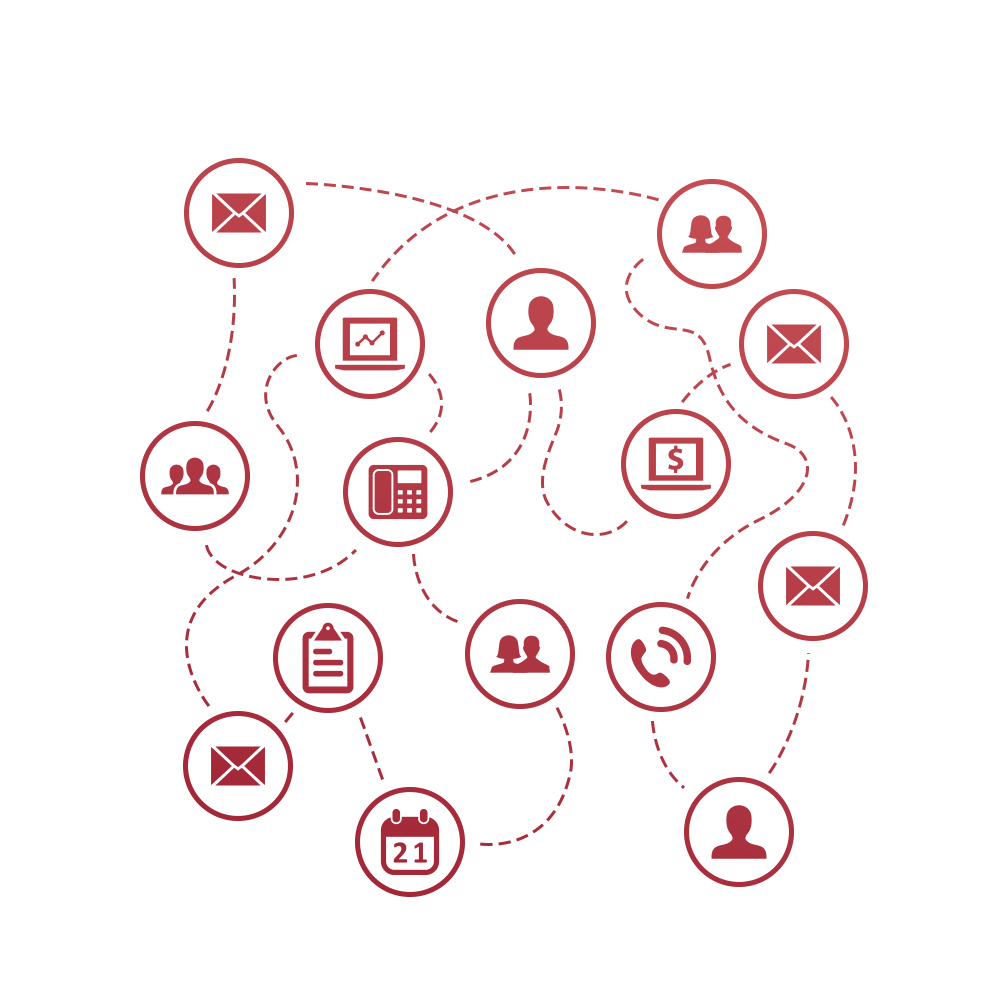 The New Way
Why not simplify with one central platform to track and manage your organization's strategy?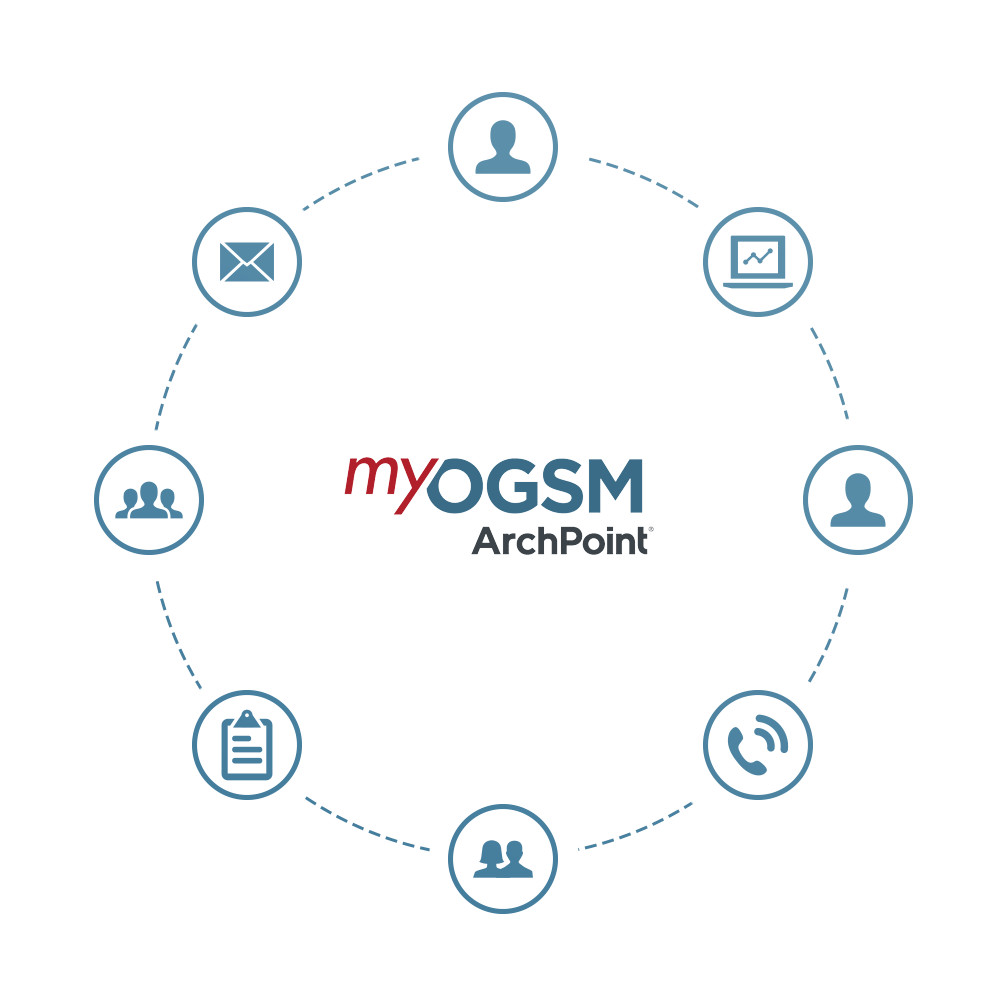 Strategy is hard. myOGSM is easy.
Strategic Dashboard
VISUALIZE THE BIG PICTURE
The dashboard provides a snapshot of progress against strategic work and its impact on financial and operational goals.
Visual Timelines
BUILD THE ROADMAP
View a timeline of every strategic activity to efficiently coordinate deliverables among teams and functions.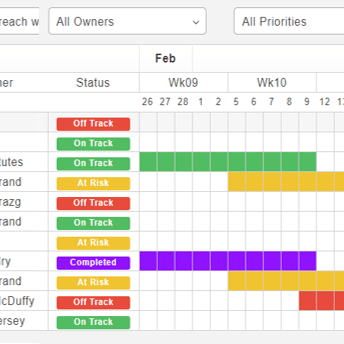 Intelligence Reporting
COMMUNICATE PROGRESS WITH EASE
Access quick reports or customize your own to summarize and track progress.
Quick Click Filtering Options
FIND IMPORTANT INFO QUICKLY
Access quick reports or filter your data to view only what you need, when you need it.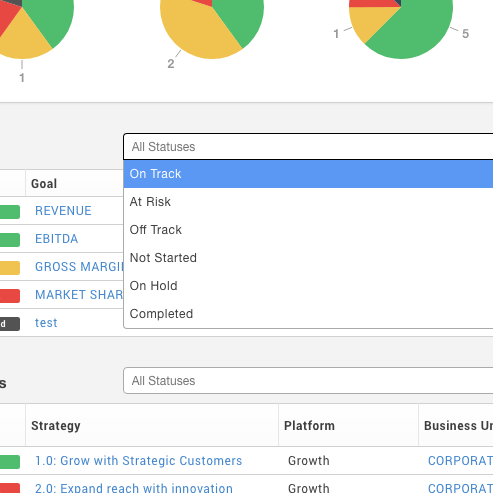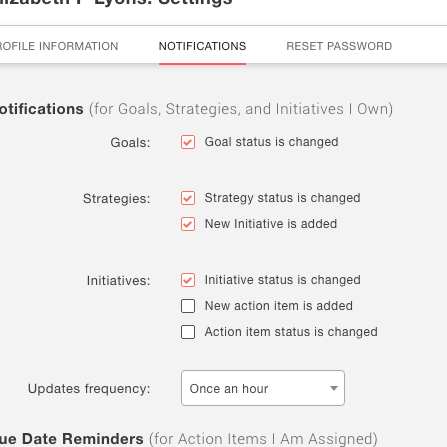 Real Time Email Alerts
STAY INFORMED WITH NOTIFICATIONS
Create and manage email alerts to stay aware of upcoming due dates and your team's progress.
Easy-to-read reports
Export and print reports or create your own. Great for work sessions and presentations.
Real-time collaboration
Eliminate manual data collection and version control issues with a central platform that maintains complete revision history.
Automated email alerts
Stay up-to-date with email alerts on changes, updates and reminders to keep users engaged.
Discussion tool
Collaborate using the platform's notes tool to share background information and support strategy dialogue.
Activity stream
Monitor engagement with the activity feed so you can track changes, additions, and completions.
Budget tracking
Connect budgets to initiatives and track real-time to ovoid overspending.
Visual dashboards
Monitor progress with a visual snapshot and quickly identify off-track items.
Document repository
Easily upload supporting documents in a centralized repository so everything stays in one place.
Resource planning
Manage team member's workload and clarify roles with the resource allocation tool.
Contact us today to see how myOGSM can change the way you do strategy.