OGSM Strategy Framework Guide 2021: Everything you need to know about OGSM
OGSM is a powerful but simple strategic planning tool. Its beauty is that it aligns organizations and prioritizes the company's goals into a clear, executable plan. We believe in OGSM because, in our experience, it is the best tool to link strategy to execution.
ArchPoint Consulting is the leader in OGSM development and facilitation.
Fundamentally, the OGSM (objectives, goals, strategies and measures) framework provides a direct line of sight to the overarching business goals and strategies of the enterprise. Essentially, it takes a complex idea like strategy and translates it into simple words and numbers. Therefore, these are easily communicable at every level of the organization. In short, it's an elegant solution to unwieldy challenges.
What Does OGSM Stand For?
Objective, Goals, Strategies, Measures
The acronym OGSM stands for Objective, Goals, Strategies and Measures. Basically, its four key elements are a combination of words and numbers. Below, we define the four key elements.
Objective: Where the organization is going. (words)
Goals: What the organization must accomplish financially. (numbers)
Strategies: How it prioritizes strategic choices. (words)
Measures: How the organization measures success. (numbers)
Above all, the resulting one-page strategic plan connects big-picture strategy (1 + 2) to operational elements (3 + 4). Read on for more detailed descriptions of the four elements of the OGSM framework.
Direction-setting statement
Choices made to achieve objective and goals
Answers the Question
How will we prioritize our choices?
Financial & operational performance goals
Answers the Question
What must we accomplish financially?
Quantitative figures used to track progress on strategies
Answers the Question
How do we measure success?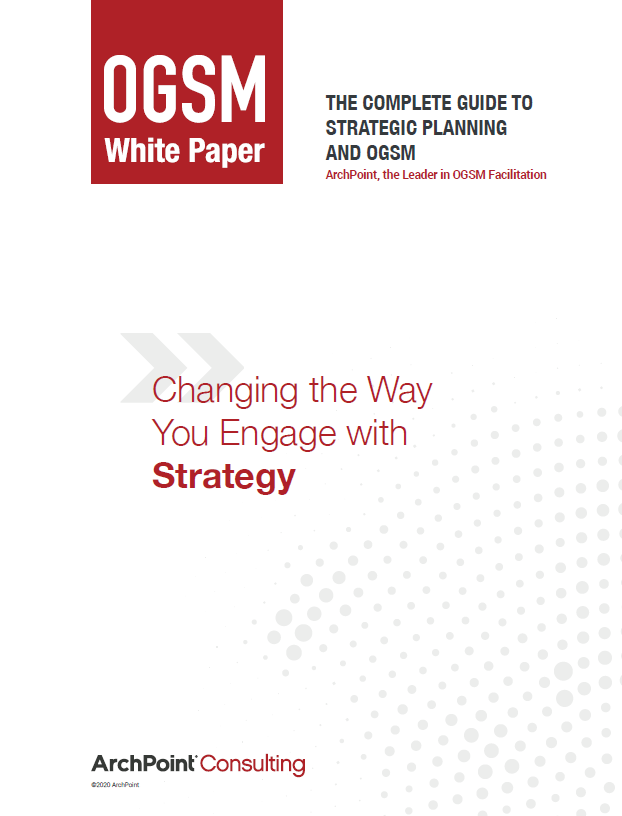 Ready to make your strategy work?
strategic decisions are tough, so the framework for strategy must be simple. 
Learn how OGSM helps leaders navigate the complex world of strategy.
First, the O or Objective of an OGSM states in words what success looks like for the future of the organization. Essentially, it is a direction-setting statement that answers the question "Where are we going?" Further, the Objective statement is the foundation of the strategic plan. Therefore, when the organization executes the plan, they achieve the Objective statement, along with the Goals.
Unlike a vision, values or mission statement, the Objective statement describes the business of the organization. In addition, it creates a view of where the business intends to go over the next 3 – 5 years. The Objective statement should be aspirational in terms of what the business will achieve using specific and direct language. For example, it can include statements as it relates to the business's competitive position, market definition, resource allocation, geographic focus, and/or desired level of performance. 
Next, the G in OGSM stands for Goals. These Goals are basically numbers that define the organization's future financial success. In short, the Goals are a translation of the Objective into metrics and answer the question, "What must we accomplish financially?" 
For instance, organizations identify anywhere from 3 to 6 goals. As an illustration, goals include key components of the income statement—i.e. revenue, gross profit, expenses, and EBIT. In addition, market share is sometimes also a goal. Importantly, set annual forecasts of these goals to at least three years. Remember, make them aspirational and achievable, like the Objective statement. Financial targets measure whether or not the organization achieves the Objective. Along with Measures, Goals provide a quantifiable means to drive strategic efforts, measure success and adjust strategy as needed to achieve the strategic objective.
Thirdly, strategies are the choices outlining the "what" and "how" an organization will achieve its Objective and Goals. It answers the question "How will we prioritize our work?" Consequently, these Strategies are the guardrails to guide all decisions, actions and resources. 
Strategies fall into one of three areas—Growth (i.e. customer or innovation strategies), Productivity (i.e. manufacturing or quality strategies) and People (i.e. talent management or culture strategies). For each area, craft Strategies that will move the organization from where it is today to where it needs to be in the future. Generally, at least one Strategy in each area is recommended but no more than six per OGSM. Remember, do not lose sight of the Objective and Goals—each Strategy must directly contribute to its success.
Initiatives are also required to support each Strategy. These initiatives explain how each Strategy will be accomplished and break down the work into what departments and roles need to achieve to deliver the Strategies. 
Growth strategies relate to:
Customers

Marketing/Branding

Products

Innovation

Mergers & Acquisitions
Productivity drivers relate to:
Manufacturing​

Supply Chain​

Quality​

Finance ​

Continuous Improvement
People drivers relate to:
Culture​

Talent Management

Compensation

Employee Engagement

Succession Planning

Performance Management
Lastly, measures are the quantitative numbers that track progress of the Strategies. They are also the mechanism in which we answer the question "How do we measure success?" Good tactical Measures have three components: 1) quantitative to show progress, 2) reasonably easy to track and 3) overall accepted by the organization as a good measure of success. In an effective OGSM, one to three Measures are recommended for each Strategy. In order to achieve accountability, an owner is assigned to track each one. Although Measures are the last component of OGSM, do not skip this important work. After all, these numbers evaluate the OGSM and help make informed adjustments over time.
Example Growth Measures
Market share (% by product category)

Sales growth (% by product category or market segment)

Customer satisfaction (rated by a quantitative data collection method like Net Promoter Score)

Brand equity score
Example Productivity Measures
Cost avoidance/reductions/savings ($ or %)

Inventory cost

Manufacturing efficiency

Process time(s)

Order-to-delivery time(s)
Example People Measures
Employee engagement survey

Open job requisitions

New hire onboarding time(s)

Training compliance (numbers of people who complete training courses)

Retention rate
Where did OGSM originate?
The OGSM framework was first used by large corporations in 1950s Japan. However, the precise origin remains unknown. Scholars believe it was developed post-WWII during the Occupation of Japan. It is also thought to have roots in Total Quality Management (TQM). TQM is an approach to long-term business success focused on customer satisfaction. After the concept arrived in the US, Procter & Gamble (P&G) modernized OGSM. Then CEO of P&G A.G. Lafley used OGSM to align their global organization. Their version of OGSM is the basis for what is used by many Fortune 500 companies. Fundamentally, OGSM is a one-page strategic document used to clearly outline business goals and strategies. It also connects them to organizational practices, plans, and measures to achieve long-term success.
The hard truth is that most companies struggle with strategy.​
5% of the work force, on average, understands their company's strategy.
25% of managers have incentives that are linked to the successful execution of strategy.
60% of organizations fail to link budgets to strategy.
85% of executive teams spend less than one hour per month discussing strategy.
Studies report that nine out of 10 companies fail to execute their strategies. OGSM effectively bridges the gap between strategy and execution, making it the ideal tool to align leadership and cascade the work throughout the organization. As a result, ArchPoint Consulting has implemented OGSM in hundreds of organizations, large and small, from individual business units to global organizations and in a wide range of industries from consumer product goods to industrial manufacturing. 
We've helped hundreds of organizations develop and execute their strategies with OGSM.
How to Create an OGSM Strategy
After years using OGSM as practitioners in Fortune 500 companies and now implementing OGSM successfully with our clients, we understand what is required to successfully develop and execute the OGSM framework. Following below, we outline four phases to create an OGSM in more detail. Importantly, each phase is significant and should be given adequate time to complete fully.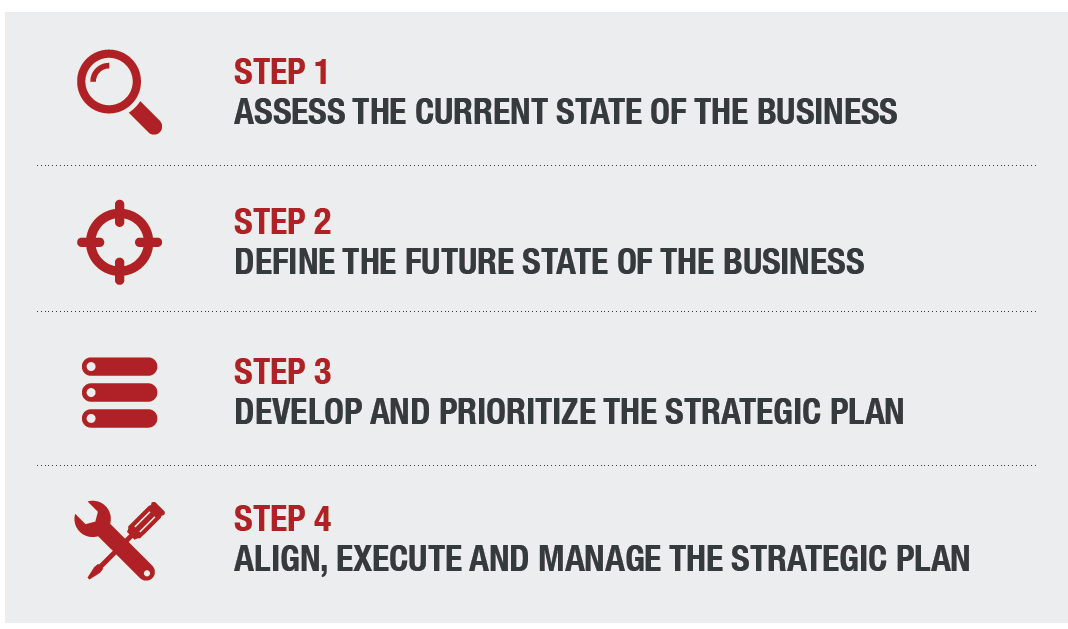 Step 1

: Assess the business
Unlike many articles on OGSM, we believe the first step to any good strategic planning process is completing an honest and objective assessment of the business. However, this can be uncomfortable for organizations to dig deep into the areas that are working well and those that are not. Areas to consider are current performance, potential revenue growth, internal capabilities and resource availability, for instance.
In order to gather a real view of the organization, internal and external factors must be evaluated. At ArchPoint, we generally begin the assessment with interviews of the management team and those integral to guiding the strategic plan. Crucially, these conversations must be kept confidential because they go deep to uncover the challenges facing the organization.
Strategic Assessment Areas include:
Leadership

Growth, Productivity and Resources

Strengths, Weaknesses, Threats and Opportunities

Strategy & Investments
Customer and Competitor

Organization & Structure

Process & Information

People & Culture

Macro Trends/Challenges Facing the Business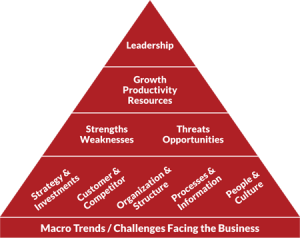 Further, this assessment data is analyzed for major key trends, positive opportunities, and areas of improvement. The information is shared with leadership in a multi-day session detailing an overall view of the business. Ultimately, this data serves as the foundation for the team to begin making choices to build the OGSM strategic plan.
Step 2

: Define the future state of the business

Following our gaining an honest understanding of the business's current state, next the leadership team defines the Objective statement and Goals. As shown above, the Objective and Goals of the OGSM define the company's future state. These two elements are the aspirational elements defining what success looks like in the next 3 – 5 years. 

Because the Objective statement truly is the foundation of the OGSM, it is essential its development is collaborative and inclusive of a cross-functional leadership team. In addition, defining the financial Goals shape the expectations of the strategic plan. Consider what internal and external factors face the organization and ensure the targets are aspirational yet achievable.
Step 3

: Develop and prioritize the strategic plan

With the Objective and Goals defined, Step 3 addresses the Strategies and Measures and completes the one-page OGSM. In order to develop the strategies, the group should revisit the assessment in Step 1 and prioritize six to eight strategies. As a rule, these strategies should capitalize on any strengths, close capability gaps and identify growth opportunities. Each Strategy should be assigned no more than three Measures to track its success. This step requires the hard work of choosing the Strategies that will best deliver the future of the business. Generally, Strategy development sessions convene over one to three days with additional follow up meetings to align on key details and metrics. 

Now, the team can finalize the one-page OGSM. The team should also create a case for change presentation to communicate and align the rest of the organization to the OGSM.
Step 4

: Align, execute and manage the strategic plan
Finally, it is time to execute the plan across the organization.
In order to do so, the work must be cascaded into the daily activities at each function and level. Cascading links the Goals and Strategies of each function/level and should be tracked with Measures relevant to the work. With this purpose in mind, the Objective and Goals are the strategic vision of the organization as a whole so they do not change during the cascading process.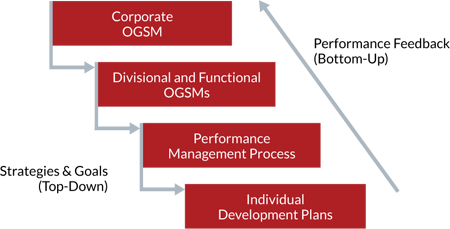 In order to ensure the long-term success of the strategic plan, we recommend establishing a management routine at the onset including meeting cadence and progress tracking.
Management Routine activities can include the following:
Monthly progress meetings with Initiative teams
Quarterly progress meetings with Strategy teams
Biannual or annual OGSM meetings with leadership/executive teams
Regular, consistent communication on progress from leadership to the organization
Regular, consistent communication on progress from managers to teams
Further, to drive execution down to the appropriate level, use Initiative Charters to define in detail what it means accomplish the Initiative. This would include key milestones, potential barriers, ways to overcome, and required resources. The owner of the Initiative creates and manages the charter. Essentially, these action plans help Initiative owners ensure the work stays on task.
Communication and alignment across the organization is required to indoctrinate the strategic plan. The beauty of OGSM is that is drives the narrative and when implemented correctly, changes the language the organization speaks. Given these points, all decisions and work should support the OGSM and the priorities it sets forth.
Free OGSM Template

Download ArchPoint's free OGSM template to use our concise one-page format to develop and document your own OGSM strategic plan. Additionally, we have included a format for Initiative Charters to enhance execution of the organization's Strategies. These tools combined with ArchPoint Consulting's unique OGSM development process will translate strategic vision into business reality.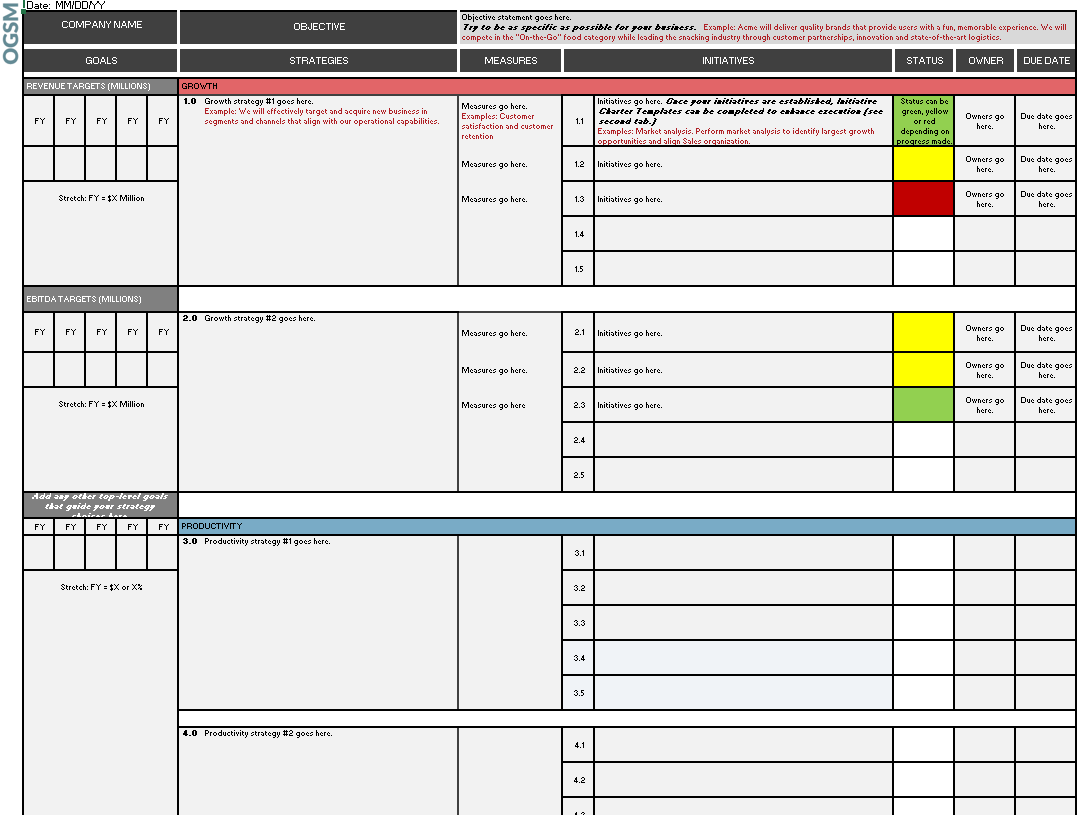 Example OGSM
Following is a broad example of how the elements of OGSM play out. Download our free template to fill in the pieces.
Objective Statement
In general, an Objective statement could be stated in this fill-in-the-blank template: "We will achieve ___ by ___ through doing ___ to accomplish ___ ?" Therefore, following this format, an example objective statement would read like this: "We will achieve market leadership by 2025 by focusing on new products, innovative marketing and stronger relationships with our customers to accomplish industry leading profitability."
Goals
In addition, the Goals should connect to the defined Objective statement. In support of the above example Objective, we chose revenue growth, share growth, operating profitability and Voice of the Customer (VOC) as relevant Goals to gauge the organization's strategic success.
Strategies
Subsequently, in developing the Strategies to support this Objective statement, we provide you an example that connects to the "innovative marketing" portion.
In brief, the client's marketing challenge was identified as being a loosely defined portfolio of brands with limited brand equity monitoring and low brand building activity. Therefore, our ambition was to influence consumer purchase decisions through insight-led marketing activities based on a well-defined brand architecture. Further, we knew they needed to utilize strong consumer and trade marketing activities supported by test & learn and ROI-based process. So, this Strategy was named "Create Demand with Brands & Consumer Marketing."
Measures
Consequently, brand awareness, brand equity score and marketing ROI were chosen as Measures for this specific Strategy.
Lastly, four initiatives were identified to bring this strategy to life.
Define the brand architecture including hierarchy, brand standard and footprint
Build brand awareness and equity through consumer marketing
Create ROI-based trade marketing programs
Identify and execute market optimized pricing and promotion approaches in each key channel
At this point, the major components of the OGSM are developed. Following the creation of the one-page OGSM, it is time to assign owners and develop Initiative Charters to further outline the work required.
Ultimately, we hope this example illustrates the flow of the OGSM elements and how each links to the next. Also, notice the specificity of the example to drive focus and prioritize the organization's work.
ArchPoint's OGSM Execution Software
In order to make any strategy successful, it must be executed properly throughout the organization. Therefore, we developed myOGSM, a web-based application that drives collaboration, increases accountability and tracks performance in one central platform to enhance strategic execution.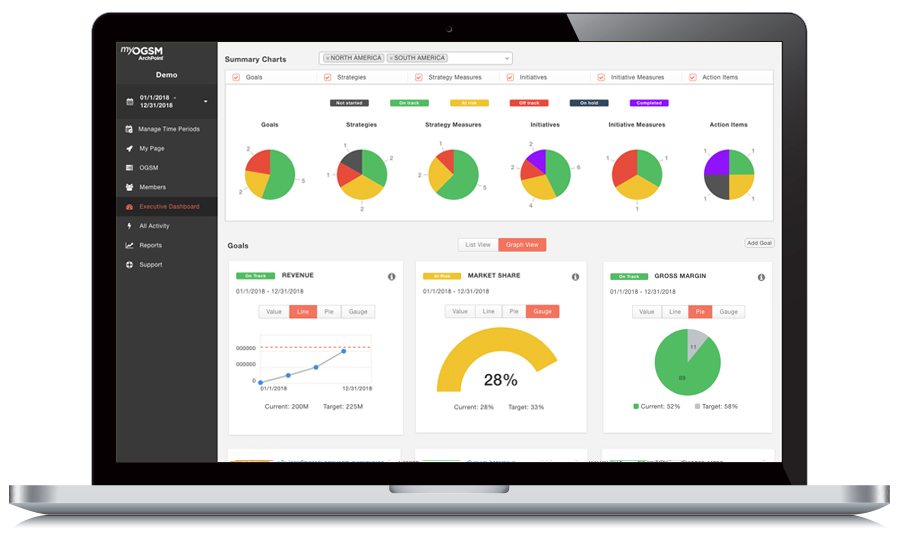 Other Popular Strategic Planning Frameworks
Because strategic planning increased in popularity over the last 70 years, many strategic frameworks have been developed. As examples, some of the popular strategic planning frameworks include:
1. OGSM
2. Ansoff Matrix
3. Hoshin Kanri
4. 7S Model
5. Balanced Scorecard
6. Blue Ocean
7. OKRs (Objectives and Key Results)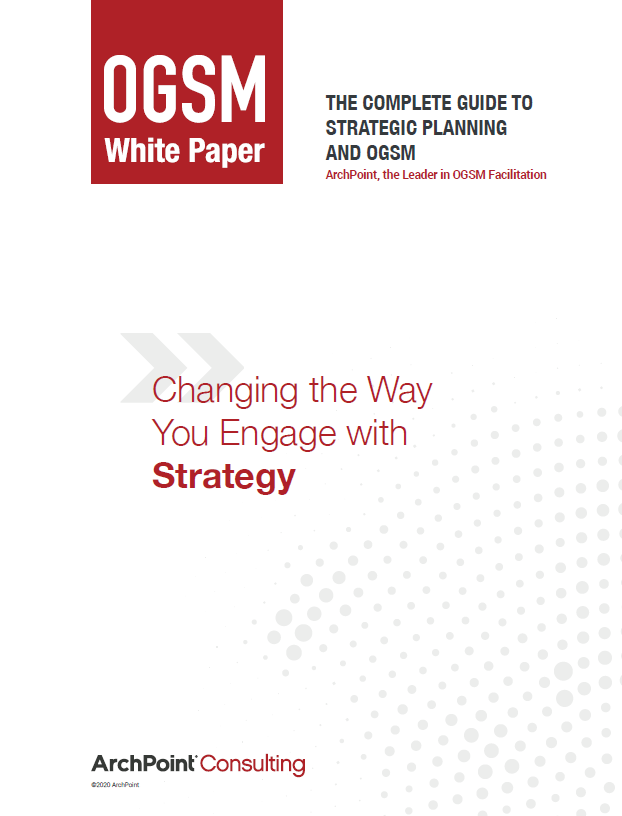 Ready to make your strategy work?
strategic decisions are tough, so the framework for strategy must be simple. 
Learn how OGSM helps leaders navigate the complex world of strategy.
Why use OGSM?
At ArchPoint Consulting, we believe in the power of OGSM to achieve strategic success in organizations of all types and sizes. Over time, we've seen OGSM deliver results as executives who used the methodology in Fortune 500 companies to now helping hundreds of clients develop and execute the methodology within their companies. To summarize, it is the clarity, alignment, and discipline OGSM fosters that creates a clear direction for organizations and identifies a path to get there.
If this is the first time your organization has documented and instituted a strategic plan, we hope our processes and templates provide the support you need. Moreover, we highly recommend the ArchPoint Jumpstart Session, a 2-day workshop designed to create a customized rock-solid strategy for your business to get started on the right foot.
Below, we have outlined what you can expect in your two-day session with an experienced strategy expert
Assess current state of the business
Align to key findings on improvement areas and competency gaps
Complete working session with leadership team on how to get from current to future state
Finalize one-page OGSM strategic plan
Stay Connected.
Get Insights Straight To Your Inbox.