Standing atop a mountain in Switzerland watching my youngest daughter gracefully make her way down the ski slope, I couldn't help but smile and think of Nelson Mandela.
You see, she didn't take naturally to skiing. Our three other children got the hang of it quickly, but with Lillian, we all — her mom, her instructor, our other children, me and, of course, Lillian — we ALL endured five straight days of misery.
During that first week, we went to the slopes five days in a row. For Lillian, there was no magic moment. Nothing improved each day. In fact, if it were possible, things seemed to get worse instead of better.
I think of how many times we could have quit. After day 1? Definitely. After day 2?  Please. After day 3? Of course. Instead, we just stuck with it.
Watching from the sidelines was tough. As a parent, I wanted to save her. I wanted to tell her, "It's fine. Get your skis off. Let's go and warm up. You don't have to do this."
However, as a father, my response was, "Stick with it."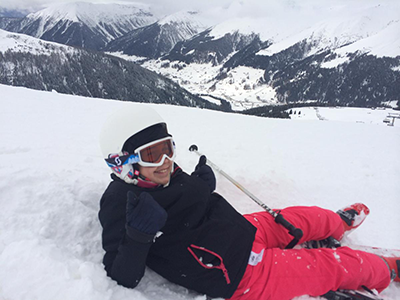 After the first terrible five days of skiing, we waited two weeks before we went back. Still — no magic for Lillian. Then we decided to give it one more try.
On our sixth day on the slopes, Lillian and I stood there waiting for the instructor. When he showed up, I said, "I'm going to turn it over to him."
And then I turned and walked away. It was incredibly difficult.
From there, I found a secret spot to watch how the lesson progressed. I watched her being fearful. Her attitude wasn't good. She was pessimistic, argumentative and defiant. She did not want to do it.
And then, something happened. Suddenly, it starting making sense to her. She had a moment of success — and success built upon success. She found her courage. Even when she didn't want to be there, she stayed in the struggle. On day 7, she overcame the fear.
Now she's a good little skier — and for Lillian, our child who comes up against challenges more often than her siblings, the triumph of learning to ski has added to her confidence. Working through each test makes her stronger and gives her confidence for the next one. Adjusting to our new home in Europe has been difficult for Lillian. She missed her good friends back home in Louisiana. Finally, six months in, when she was gaining some of her footing in her new home and starting to settle into her routine and make friends, we throw skiing into the mix.
Part of overcoming our fears is about sticking with the strategy. Little Lillian didn't want to stick to our strategy of learning to ski as a family, but we persevered — even though it took seven trips to the mountain.
In the business world, so many times we have fears that allow us not to place big bets — instead we spread our risk. We spread our options like peanut butter. We say, "I'm going to place 15 small bets rather than one big bet."
We need to focus more on sticking to strategy even in the hard times. Sometimes we change the course just because a competitor reacts or a client doesn't. Just because things don't turn around on a dime with a new strategy doesn't mean the strategy is bad for the long term. The market may not have responded yet. We need to be a little more patient with our plan and stay on strategy — like we did with Lillian on the ski slopes. We just need to persevere.
These days, the kid coming down the mountain is joyful. She went from, "I'm not going to do this," to, "This is the coolest thing ever!"
So what does any of this have to do with me standing on a mountain thinking of Nelson Mandela?
Because once upon a time, Mandela said, "The greatest glory in living lies not in never falling, but in rising every time we fall."